Scholarships? They're easier than you may think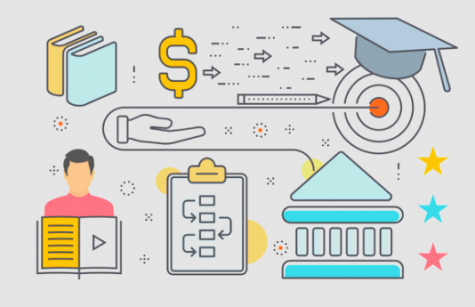 As senior year rolls in for high school students, the last thing on our minds is scholarships. Let's be honest, most of us are too busy living out our high school dreams, pulling all-nighters studying for those big exams, and rushing through college applications. Trust me when I say that scholarships are going to make your life a lot less stressful in the future because no one wants to be still dealing with college debt when we're in our late thirties. 
There's this big misconception that scholarships are right at your front door, and cases like this are quite rare. To get most scholarships, you have to look for them. The best way to find scholarships is through the web. 
The following websites are only a few out of a thousand that provide compatible grants at the click of a button.
Unigo.com – To start your scholarship journey at Unigo, all you have to do is sign up (the website allows you to use your google account) and you will be directed to your account where you will enter your information. Once you have completed entering your information, go to the scholarship tab and to click on "scholarship match". Then, you are led to another form consisting of five pages that will ask for your credentials. Once you finish, you will be shown a bunch of scholarships to apply for (some may require essays) that will be towards you and your talents. 
MyScholly  – In Scholly, you'll start by signing up, in which you use your email and will have to create a password. After you sign up, there will be a tab in the upper right corner that says "Scholly Search". The only thing that contrasts Scholly from the other websites that I have provided is that you will have to pay around eight dollars per month. The best part of this website is that you can use the "Scholly Editor" to edit your essays, create resumes, and help you with any homework you are struggling with, which in my opinion is worth the payments. 
Fastweb – Starting in Fastweb is simple, the process is similar to the previous websites mentioned. The first thing you would want to do is register to the website, and by doing so you just have to click on the 'Sign Up' tab. In the registering process, all you have to do is enter some basic information, such as your contact information. After registering, you should be led to a page that allows you to start your scholarship search. Fastweb.com is also a resource in finding colleges that fit your budget and interests, part-time jobs you would like to take in the future and can give you pointers on financial aid. 
Now that you know where to access scholarships, you need to find time to apply for them as well as write essays, in case the scholarships you come across require a written proposal or thesis. It is highly recommended that you create a schedule composed of all the spare time you got to compose your scholarships. Something good to point out is that you should put aside around twenty to sixty minutes to write out your applications. You can either set out a Google Sheets or use a physical agenda to schedule writing hours or days. If schedules are your weakness, or you just can't adhere to them, then I highly recommend setting up alarms that are coinciding with your schedule so you can turn in your applications on time. 
Setting aside time to write an essay isn't going to guarantee the scholarship, but the three tips that I will present to you today will increase your chances of getting that grant. These tips of mine are called "THE THREE ALWAYS" of writing a personal essay, which is the dominant type of essay that sponsors love to assign. 
ALWAYS show your personality, whether that be through personal experiences, your friends or family, hobbies, preferences, and more. Sponsors love to know who they are giving their money to since they want to have the security of knowing that they are finding someone that will make great use of their money. 
ALWAYS be grammatically correct. This may seem like an obvious tip, but let me tell you how far you can go if you are grammatically correct in your essays. If you've got no use of grammar or spelling in your essay, the only thing that your sponsors will see is that you are not professional enough to use their money. If grammar is your weakness, use Grammarly and even pay for a premium membership if you can afford it or ask your ELA, ELL, or Writing Skills teacher to look over your essay. 
ALWAYS think creatively and stick to the topic that the sponsors provide you. By doing so, you'll have a higher chance of earning the scholarship because the sponsors will be impressed with how you interpreted a prompt without going astray from it. 
The most crucial thing to take away from my advice is that it is not the end of the world if you don't win a scholarship. Applying for scholarships is an experience that allows us to strengthen our application skills and gives us a glimpse of how the real world works. If you want to reuse a scholarship essay, whether denied or accepted by sponsors, for another application, try editing to make it sound professional and efficient. Let's say you want to start all over again. Try to point out the weaknesses in your previous essay, from grammar to the argument of your essay, and brainstorm on ways you can improve. Overall, don't worry and keep trying. Remember that failing is better than not trying at all. Persistence is the ultimate key to success.