OPINION: The issue with Taylor Swift slamming Netflix show for sexist joke
March starts the marking of National Women's History Month. It's a month to highlight and recognize the contributions of women to events in society, and history. Unfortunately, Taylor Swift, a huge advocate for women's rights, got grouped into another sexist joke.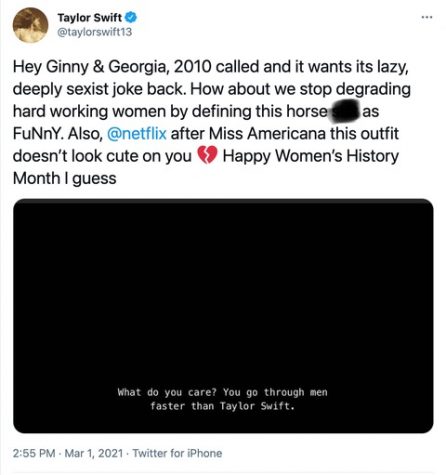 In both her music and her public persona, Taylor Swift has taken care to show that she's grown up a lot in her career. She's more political now; she records indie albums, and she stays quiet about her love life in public. Though, she shows that she didn't form a reputation as the biggest grudge holder in pop music for nothing. On March 1st, the target of her anger was at a new TV show called Ginny & Georgia and the streaming company, Netflix, associated with it. For context, the scene is where a teenage daughter and her mother are fighting after the mother learns the daughter is sexually active. At one point the daughter retorts, "What do you care? You go through men faster than Taylor Swift." This immediately caused controversy among Taylor Swift fans after she tweeted out calling the joke "lazy" and "deeply sexist." This was when the hashtag #RESPECTTAYLORSWIFT started going around on Instagram and Twitter. The real tragedy of that Ginny & Georgia Taylor Swift "joke" is that the show is created by a woman and the episode was written by two women. Another show on Netflix, Degrassi: Next Class made a similar joke saying "Taylor Swift made an entire career off her exes." 
Taylor's tweet had angered a ton of people. Many said she was "overreacting" and even defending the joke by saying, "that's how typical teenagers talk." People also claimed that it was Swift's fault for writing 20+ songs about her past relationships. Countless people have shamed Taylor for ex-boyfriends/past relationships, songs, appearances, and feud with Kim and Kanye West back in 2009 and 2016. It seems like she can't do anything right. It's a running joke that "Taylor Swift might write a song about you if you break up." Now the real question is; why is it so normalized? It is no secret that the public eye enjoys slamming women for their past relationships, appearances, etc. When a woman's desirability is pushed so much by the world and men we're programmed to focus on how we look when we do anything, like go out to the store, get the mail, etc. Even if you don't think about men first thing when you're getting ready for the day or whatnot, men are the ones that caused women to be so insecure about these things in the very first place. Getting ready is almost a survival instinct because you know you'll be treated better. It's the reason why women in the industry all look the same, never talk about things they want to/should, etc. They're afraid to because of the society created by men. 
 I feel as though women like Taylor Swift are constantly in hot water over her music about relationships. Women shouldn't be shamed for having multiple partners in their lifetime. Love is a natural thing, and sometimes individuals fail to understand that people (famous or not) won't always find the right person. Taylor swift is an extremely inspiring person to many people all over the world, and her title of "writing songs about all her ex-boyfriends" should be removed. The running sexist jokes about women and their relationships are very outdated, and everyone is tired of hearing about them.
***This opinion article reflects the voice of the writer and does not necessarily represent the views of The Viking Times as a whole.  Like most news outlets, The Viking Times is a non-partisan media platform.***