Winthrop High School Volleyball Is All Set
October 6, 2022
The Winthrop High School girls' varsity volleyball team has already encountered some formidable opponents this fall season, despite a solid start to the year that included a victory against Excel Academy Charter. With many fresh recruits to the varsity team, they have so far competed against schools like Masconomet Regional, Swampscott, Saugus, Northeast Metro RVT, and more. The team currently holds the eighth-place spot in the Northeast Volleyball Standings with 3 wins and 8 losses. In preparation for upcoming games, the team is working assiduously to develop their skills and capabilities during practice. I interviewed middle blocker Mira Ivanis and one of the team's coaches and former Liberos, Amanda Kokoneshi, to discuss their objectives for this year and what the team may anticipate from this season after their most recent performances.
Amanda Kokoneshi, WHS VB Assistant Coach
What are some of your team's biggest strengths?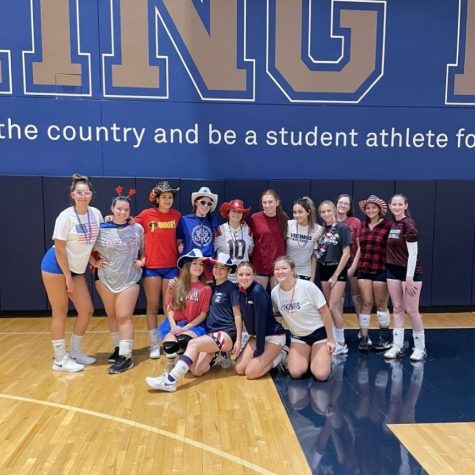 "Overall, the team works well together. It is important to view your teammates as your family, and the girls really do. You can tell that they love each other and love playing volleyball with each other. They help pick each other up and encourage each other. Volleyball is a team sport, and you have to be able to rely on your teammates. I always tell the girls, no one gets more upset than the person that made a mistake, so encourage them to shake it off and get the next one. They do just that. They are each others' biggest fans."
What are some weaknesses that you've witnessed so far this season, and how do you plan to improve?
"Our main weakness is not having faith in ourselves. We have amazing players on the team, and when they say 'I can't,' I know that it's not true. During practice, we push the girls to reach their full potential. Once they see that, they can do it over and over again, and they believe in themselves."
What are your core values as a coach?
"My core values as a coach are respect, encouragement, and commitment. It is important to have respect for your fellow teammates as well as the coaches. We are all dependent on each other. Without respect, there is no team. Encouragement is crucial during games or a hard drill in practice. It is the motivation when it comes from your teammates or your coaches. Like any sport, volleyball is a commitment. You have to be at practices and games. Without that commitment, you are not respecting your fellow teammates or coaches."
What approach do you take when your team is struggling? Any specific drills you focus on?
"I have learned that when the team is struggling, it is important to go back to basics. Sometimes games get so intense that we forget how to play basic volleyball. We will do simple passing or hitting drills and focus on the technical aspects of each skill. By breaking it down, the athletes can correct or make the adjustments they need to make to perfect the skill."
Mira Ivanis, #6, Middle Blocker
What's your favorite part of playing middle blocker, and what are some challenges that come along with that position?
"My favorite part about being a middle blocker is being able to block–as cliche as that sounds, I love being a middle blocker because I love to block! I also like being a middle blocker because it gives me a clear view of the other side of the court. But alongside that, a middle blocker–as I've learned numerous times–does regularly have to be able to be in a lot of places at once but not bump into another player."
What's your relationship with the other girls on the team, and how well do you think you guys work together?
"This being my first year on this team, I didn't know what to expect, but I am so glad to have joined. I couldn't ask for a better team. Our captains, Sara and Hannah have guided me so much on how to best play middle blocker and adjust to a sport I hadn't really played before. This team inspired and helped push me to be the best player possible. It's been an amazing season thus far, and I cannot wait to see what the future holds!"
How are the practices? Is there a particular activity that you find the most difficult? Which activity do you prefer?
"Practices are created to help us adjust to numerous settings; not every team is the same, so that being said, we have to learn how to adapt to what we do know, and following our games, we practice what we didn't previously excel in. I would say that the toughest part of practice for me is when we go to improve on techniques like passing a float ball or adjusting to a tip/touch. We have to be able to understand what exactly our mistake was and how to improve our reactions to these things."
Special thanks to Mira Ivanis and Ms. Kokoneshi for responding to our queries. We wish the girls well as they compete against other teams in the future, and don't forget to tune in to see Winthrop take on Salem once more on Wednesday, October 12, at 5:30 PM!