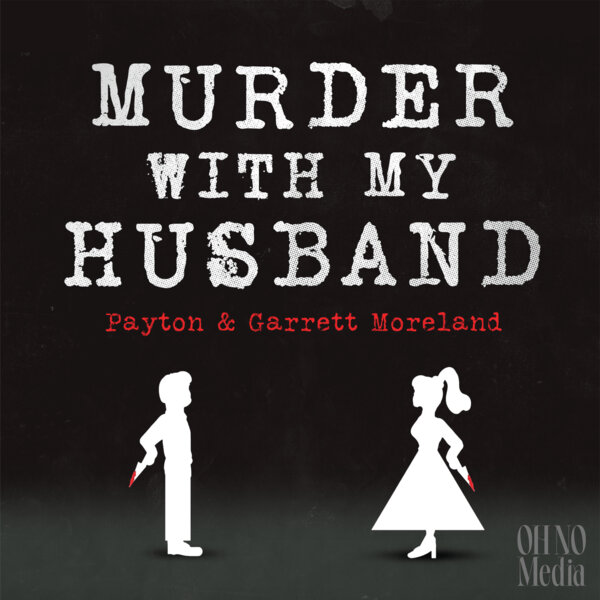 *TRIGGER WARNING*
-If you don't like listening about murder, abuse, suicide, rape, or anything violent in general, this podcast recommendation might not be for you
October introduces the spooky season! Everything spooky and mysterious happens during this month, but for me October is full of true crimes and murders. In this article, I will be introducing you to one of my favorite murder podcasts, "Murder With My Husband". 
"Murder With My Husband" is a true crime podcast featuring Peyton and Garrett Moreland. Their podcast ventures into the darkness of true crime with a wife who loves it and a husband who hates it. In it, Peyton has been obsessed with true crime for a very long time. She grew up watching Law and Order, CSI, plus many other shows, so she likely has a lot of expertise on this topic. However, Garrett is very different; he hated true crime and didn't like talking about it. When Peyton (a true crime lover) and Garrett (a true crime hater) married, they made a deal to create this podcast. In all their episodes, Peyton explains the crime and Garret learns just like the audience. With Peyton's explanations and Garrett's questions, it helps the audience stay engaged to learn so much about the case. 
In my opinion, I believe this podcast is so informational and fascinating. I have so many favorite episodes which include: "The Longo Family", "Grace Millane-Tinder Date Tragedy", "Michelle, Lori, Denise-The Oklahoma Girl Scout Tragedy", "Larry Wells-The Toys R' Us Murder", and so much more. I would recommend checking these out because they are great! Aside from that, all these episodes kept me guessing or questioning everything! I honestly love that it keeps me on my toes, but I learn important information or valuable life lessons. 
The podcast currently has 185 episodes and releases a new one every Monday. You can listen to the podcast on Spotify, Apple Podcasts, Audible, Stitcher, and Google Podcasts to stay updated. You can also watch it on YouTube if you want to watch with images and see Peyton and Garrett's reactions. 
I hope you check this podcast out soon! 🙂