Madonna Louise Ciccone is an American singer and song-writer, who was most successful between the 80's and 90's. A handful of people know her for her hit songs "Like a Prayer" and "Material Girl", and for being featured in Season Three of Stranger Things, bringing this staple of her musical past back with a bang. She is also known for her controversial songs, images, and quotes. Overall, she is an extremely talented singer that holds multiple Guinness World Records with a bold personality.
In June, Madonna had a severe bacterial infection, causing her to stay in the hospital for multiple days. Fans were sending their support and thoughts. She later posted on Instagram thanking fans for all the support saying, "Thank you for your positive energy, prayers and words of healing and encouragement. I have felt your love." She continues saying that she did not want to disappoint anyone who bought tickets for her tour, explaining that her health is back on track and the tour will not be cancelled.
Though not much was told, it was revealed that the pop star had not been feeling well for awhile. She hoped the illness would go away and wanted to focus her efforts into the upcoming tour. The particular condition was never told to the public, but she made it known that it was an intense condition.
As mentioned, Madonna had not been feeling like herself recently. Explained by the family and her manager, her loved ones discovered her unconscious and rushed her to the hospital. It was frightening to see her like this, and it was even more heart wrenching to see her on a ventilator. In the same Instagram post she states, "My first thought was my children", exposing her maternal, vulnerable side. Many noticed Madonna's fatigue and how she wasn't in the right state of mind, urging her to take a break. Colleagues of hers suggested she takes time for herself, but she wanted zero distractions and decided to continue on. The singer's co-workers say that she is stubborn and hard worker, demanding that nothing gets in her way and she will constantly push for the goal until it is achieved.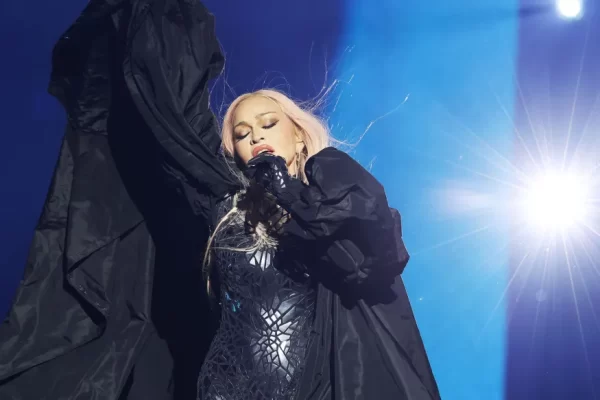 Madonna kicked off her tour on October 14th in London, the first time she was on tour since the pandemic struck in 2020. Because it was her first show it had flaws, but she made sure to weigh it out with her incredible vocals and performance. Her costumes, dance moves, and the overall energy were amazing, and of course the gift of family being there was the cherry on top. There were mixed reviews on the tour, some good and some indifferent, but overall it was a special moment for everyone in the crowd. So far she has checked the London and Antwerp dates off, next up on the list is Copenhagen. In Belgium, Madonna poured her heart out on the crowd saying she didn't feel good and became emotional.
The talented singer and performer says that four months ago she was in a hospital and people were thinking she wasn't going to make it. She empathized with her mother who unfortunately passed away when she was just five, recognizing  how lonely she must've felt knowing she was going to pass away in that hospital. The star feeling the exact same way. Madonna is thankful that she continued to live on and believes that she survived because she was given a "second chance" and now wants to make the most of it.
Now, she has a long road ahead of her not only musically, but health-wise, and will continue to care for herself and persevere.