America lost an amazing actor this past weekend.  On October 28th, Matthew Perry was found dead in his jacuzzi.  He was 54.
On Saturday, a witness, who remains unnamed, called Los Angeles authorities, reporting that the actor's mouth and nose were submerged underwater.  The witness had pulled his head out of the water when the first responders arrived and pulled Perry's body out of the water.  After a medical assessment, LA Fire Department declared him dead at the scene, shortly after 4 P.M.  His cause of death is rumored to be apparent cardiac arrest and drowning.  However, an autopsy has been completed, though medical examiners say that it take many months for an in-depth toxicology report to conclude.  His cause of death is declared as "deferred," with no suspicion of foul play.  A recent, less-in-depth toxicology test, has concluded that there was no meth or fentanyl found in his blood.  When Perry's house was examined for investigation, no illegal drugs were found, but there were prescription drugs like anti-depressants, anti-anxiety, and COPD present.
The "Friends" actor was born in Williamstown, Massachusetts, the northwesternmost town in the state.  When he was one, his parents, journalist Suzanne and actor and model John Bennet Perry, divorced.  Perry moved to Ottawa, Canada with his mother who worked in the communication office of former Canadian Prime Minister Pierre Trudeau.  By the age of 15, the future actor moved to Los Angeles to live with his father in hopes of following in his footsteps.  Although, his first acting job was when he was 10 years old in a show called "240 Robert" in 1979.
Leading up to 1994, he nearly didn't get his iconic role of Chandler Bing.  He was set to star in another sitcom called "LAX 2194" about baggage handlers at Los Angeles International Airport in the year 2194.  Desperate to become famous, Perry called his agent for audition openings.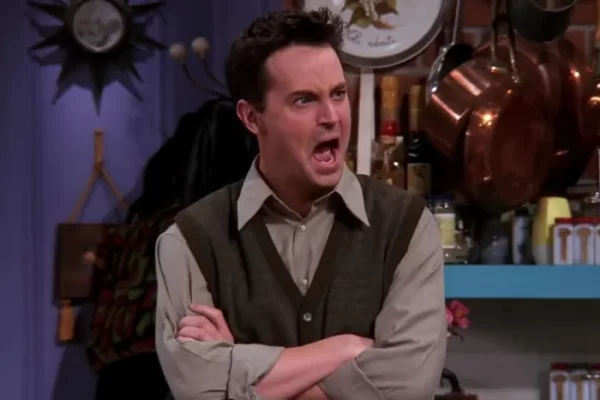 There was one for "Six of One" (the name would later be changed to "Friends") but he was taken by "LAX 2194" with the pilot set to be launched soon.  Fortunately, for Perry,  the production fell through when television executives saw how terrible the show was.  Thus, the role of Chandler Bing was his – boy did he become famous.  For ten years, he played the iconic role of Chandler Bing, the sarcastic and loving character audiences love.  During the show's run, he starred in movies like "Fools Rush In," "Three to Tango," and "The Whole Nine Yards."  After the finale of "Friends" in 2004, he appeared in TV shows such as "The Good Wife," and executive produced and starred in "Go On," "The Odd Couple," and "The Kennedys: After Camelot."  Perry would appear in the 2021 "Friends Reunion" with former cast mates Jennifer Aniston, Courteney Cox, Lisa Kudrow, Matt LeBlanc, and David Schwimmer.
Despite not having a family of his own, he was very close with his parents' kids once they remarried.  John Perry had another child, Mia, with Debbie Boyle.  Suzanne Perry married Keith Morrison in 1981 and had four children: Caitlin, Emily, Willy, and Madeleine.  "The Whole Nine Yards" star brought them to movie premiers and praised them for his support when he was hospitalized in 2019 for an exploded colon, due to addiction, which he mentions in his book, "Friends, Lovers, and the Big Terrible Thing."
In the wake of his death, countless fans and celebrities alike paid tribute to Perry.  Fans have placed flowers and candles outside of his Pacific Palisades home and in front of the apartment that housed Monica, Rachel, Joey, and Chandler.  Morgan Fairchild, Maggie Wheeler, Adele, Selma Blair, Gwyneth Paltrow, and more honored his death.  "Friends" creators Marta Kauffman and David Crane, along with the show's producer Kevin Bright, mourned the loss of one of their actors.  Aniston, Cox, Kudrow, LeBlanc, and Schwimmer released a joint statement, "We are all so utterly devastated by the loss of Matthew. We were more than just cast mates. We are a family."  The cast members write that they will need time to grieve "this unfathomable loss."  They end the statement by saying, "…our thoughts and our love are with Matty's family, his friends, and everyone who loved him around the world."
The nation will mourn the loss of an iconic actor.  But Perry mentioned that he doesn't want to be remembered for just Chandler Bing.  ABC7 quoted Perry, saying, "'I want [helping people] to be the first thing that's mentioned, and I'm gonna live the rest of my life proving that.'"  Matthew Perry will go down in history, not just for his acting, but for the thousands, if not millions, of lives he has touched throughout his life and his battles with addiction.
Let's hope you are finally at rest, Matthew.