Over the weekend, Megan Fox and her fiance , Machine Gun Kelly, wore costumes inspired by the Quentin Tarantino movie, "Kill Bill," mocking SAG-AFTRA's halloween guidelines.
Fox and Kelly dressed as the characters Gogo Yubari and The Bride, posting pictures of the finished product on her Instagram, and making it worse by tagging SAG-AFTRA in the caption. The costumes were worn for the annual Casamigos Halloween Party, the tequila brand owned by George Clooney and Rande Gerber (George Clooney dressed as a pilot, following the actors guild guidelines).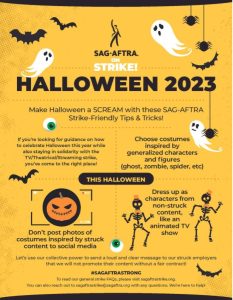 SAG-AFTRA, or the union that represents over 150,000 actors, are currently on strike fighting for an increase of minimum wage, higher streaming residuals, protections of the use of artificial intelligence, and limitations on self taped auditions. The writers guild has recently settled their contracts and their strike has come to a close, but the actors are not done.
On October 19th, SAG-AFTRA posted an infographic about "Strike-Friendly Tips & Tricks!" They received a lot of complaints about these rules, and although they never specified not to dress up as any movie characters, they said "don't post photos of costumes inspired by struck content." After a while, they took down the post, after their weak attempt at recovery saying the rules don't "apply to anyone's kids."
Lisa Ann Walter, the Abbot Elementary star, was extremely upset about Fox's post, and took to Twitter to talk about it. She is a very strong advocate of the actors guild, and has many posts about it on her Twitter account. Her post read "What a rebel. Keep posturing for stupids– pretty lady. Meanwhile we'll be working 10 hours a day – unpaid – to get basic contract earners a fair deal (PS-the post responded members questions. No one cares about kids' costumes. Just high pros at fancy parties. Like Megan)."  She later knocked Ryan Reynolds while responding to a post about Fox, saying "I bet she likes turnaround rules and relocation fees and our ongoing battle for AI protections and streaming residuals… The union did that. But sure – s– on them over nonsense. This goes for Ryan Reynolds too." He previously posted on Twitter bashing the rules as well.
SAG-AFTRA is making headway with the AMPTP, The Alliance of Motion Picture and Television Producers. There are hopes that an agreement can be made in less than a week or two. As of today, November 3rd, the actors have been on strike for 112 days straight, and have continued to make significant progress. If an agreement doesn't come soon, many actors will be without a paycheck this holiday season, and production will not continue until the new year.