We are officially in the season of fall. It's the season of fancy boots, sweaters, oversized scarves, foliage, falling leaves, and… pumpkin spice. Pumpkin spice is everywhere, and I mean everywhere.  It has taken over the entire world of autumn. Forget apples, trick-or-treating, and Halloween candy; it's pumpkin spice.  Pumpkin spice is a mixture of various spices–ground nutmeg, cinnamon, ginger, cloves, and sometimes allspice, but no pumpkin. It started its road to fame in 2003 when Starbucks released their "Pumpkin Spice Latte." Since then, it has been a staple in the autumn American culture.
Lately, any store I've been in has something involving pumpkin spice – candles, cereal, beverages, cookies, cream cheese, scented garbage bags, dog treats, and make-up remover wipes (because if you don't want the taste of pumpkin spice in your mouth, your face might as well smell like it).  And even "manly wipes" (insert your own thoughts here).  Wondering what all this hype is about, I decided to try a few products to see if I wanted to join the pumpkin spice trend. Please keep in mind that these are my opinions solely, I do not wish to offend anyone who likes the products listed below: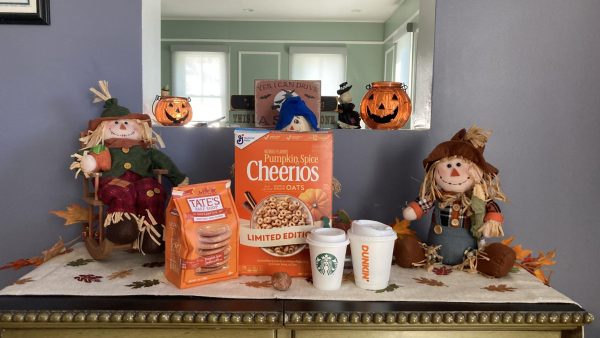 Tate's Pumpkin Spice Cookies:
When I opened the package, it smelled amazingly of fall, both spicy and sweet.  The cookie had a tint of orange to it and was studded with white chocolate chips.  The first bite was amazing – it tasted just as great as it smelled.  Yet the pleasantness of the cookie didn't last very long, as my tongue started to tingle after two bites.  Even my friend exclaimed, "What is my tongue numb?!"  The aftertaste of the cookie (after the tingling sensation) was muted and stale. I won't be adding this cookie to my fall treat repertoire.
Pumpkin Spice Cheerios:
The Pumpkin Spice Cheerios were an odd item, as I wondered how the sweetness and spiciness of a food would make an appetizing breakfast meal.  I tried the cereal without milk, knowing that the milk was going to look like a Pumpkin Spice Latte by the end of it.  The scent of the food was pumpkin and ginger.  We were off to a good start considering that one is an ingredient in pumpkin spice.  The first bite was nothing sensational; it tasted like Honey Nut Cheerios with a light sense of pumpkin!  The pumpkin flavor was more prominent than in any other product so far.  After a couple of Cheerios, there was a minor tingly feeling left on my tongue and the aftertaste was stale.  I opted for a non-pumpkin spiced cereal instead.
Nutty Pumpkin:
This was suggested to me by another friend, convincing me that I'd like it with oat milk.  This coffee was both hazelnut and pumpkin flavored. I was expecting it to look somewhat similar in color to the PSL, but it looked like a cup of coffee with cream.  Then the smell of hazelnut hit me.  When I took a sip, I didn't notice any pumpkin notes, and it left too much of a bitter taste.  The saving grace was the pumpkin munchkin I had (and enjoyed) to accompany it.
Pumpkin Spice Latte:
This is the drink that started the pumpkin spice craze.  For 20 years, the PSL (trademarked by Starbucks) has become a staple in autumn culture. The abbreviation came about when baristas would write down the drink name on the cup for customers. I was so looking forward to try this five-dollar, eight-ounce cup of autumnal goodness.  When I popped off the lid, a suspicious orange substance was looking back at me.  They say that you eat with your eyes first, so there was a bit of a letdown.  My first taste was a mixed reaction — at first it tasted like unbaked pumpkin muffin batter, and my tongue got tingly again, but it was not as bad as the cookies.  After a couple of sips, the PSL started to grow on me.  However, by the end of it, I no longer liked it and couldn't finish it.
Out of the four listed above, I liked the cookies the most.  The first taste was great, which set me up on a high. Despite the surprising tingling sensation and the aftertaste, I really enjoyed it. All in all, pumpkin spice isn't my favorite. I think it is safe for me to say that I prefer pumpkins for carving and decorating.  I'll put the fourteen dollars spent on this article towards some apple cider and apple cider donuts from my favorite orchard in New Jersey, which I would gladly give a recommendation to if anyone wants to know (they do ship up to Massachusetts, too!).
Would you try any of these?